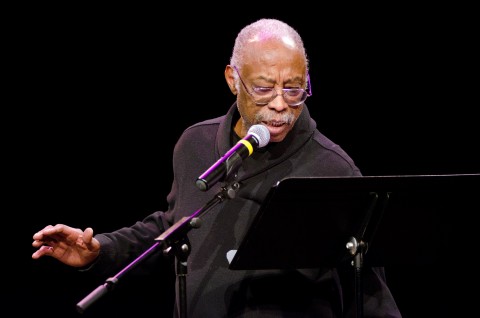 July 8 – 24, 2022
Thursdays, Fridays and Saturdays at 7:30pm
Sundays at 2:00pm
Illusion Theater
3754 Pleasant Ave, Minneapolis MN 55409
Name your price tickets start at $5.
*All tickets will be e-tickets. Seating is limited. Proof of vaccination is required. Masks are always required indoors.
From memoir to myth, from Sugar Hill to the Caribbean, The History of Religion takes us through time and space to examine humanity's relationship with faith, bringing us face-to-face with the most essential of human questions: who are we, where do we come from, and what will become of us? In a world full of sorrow and suffering, what makes life worth living? Set against a musical backdrop by multi-instrumentalist Victor Zupanc with guitarist Joseph Cruz and percussionist Tony Paul, playwright/performer Carlyle Brown calls us to worship, taking the audience on a journey from mystery to revelation and back again.
"Beyond doctrine and dogma, the texts of the world's great religions share in common both in spoken and written word, the greatest prose ever produced by the human imagination addressing unanswerable questions that can only be addressed through faith. We are singing praise songs sung in honor of love and the celebration of life." – Carlyle Brown
"Carlyle Brown did not come to play. …This extraordinary new work explores how faith, ritual and music intersect through the practices of both recitation and improvisation… Carlyle's examination of the juxtaposition between the history of West African Griots and contemporary African-American storytelling is riveting. Through this and a series of other projects, the exploration of diasporic connections and divide is at the forefront of Carlyle's art-making right now. Joining Carlyle in creating this new piece is nationally renowned composer, conductor and sound designer Victor Zupanc." – Jeremy Cohen, Producing Artistic Director at The Playwrights' Center
Cast & Crew

first presented at the Illusion Theater in 2022

Written by Carlyle Brown
Directed by Noël Raymond

Musicians

Victor Zupanc – musical backdrop
Deevo Dee– guitar
Tony Paul – percussion
Performances

A reading of the play was presented at the Playwright's Center in February 2019. The live premiere and subsequent performances include:

Illusion Theater, July 8-24, 2022