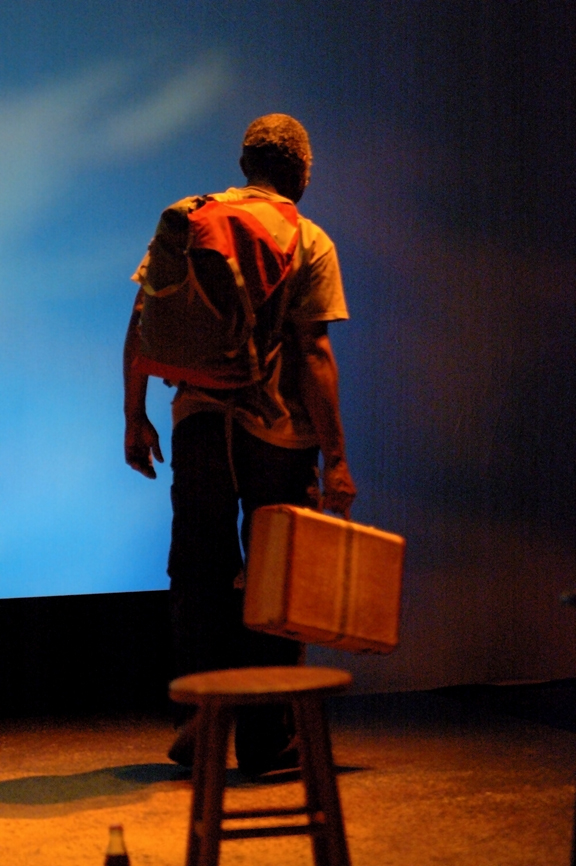 Based on Carlyle's own travels in West Africa, The Fula from America is the story of one African-American's search for an African Identity. Set in 1981, the traveler sets off on a journey that takes him to Senegal, Mali, Gambia, Guinea-Bissau, Guinea and Sierra Leone. From deep in the bush to the corridors of the African elite, he discovers friendship, generosity, poverty, wondrous beauty and civil war. As his adventures unfold, he finds himself on the boundary of the African-American hyphen where the question arises: how much of him is African and how much is American?
Cast & Crew

first presented at the Center for Independent Artists in 2003

Written and performed by Carlyle Brown
Directed by Louise Smith

Designers

Lighting design by Mike Wangen
Sound design by Reid Rejsa
Press

Language of the Lost

by Dylan Hicks, City Pages, February 5, 2003

A few Saturdays ago, I tried to take my son to the Minnesota Children's Museum. It was screaming, crushing, Mall of America packed. Our next cold was helicoptering around, waiting to be sucked in. I'd have braved the crowd, but the line to get in was at least 20 minutes long. My son looked noncommittal. Screw it, I thought. We're going somewhere else. I don't have time to wait in line for 20 fucking minutes.

Americans hate waiting. I believe this is one of those accurate stereotypes, like the one about Presbyterians being great dancers. In 1981, Carlyle Brown came into 3,500 bucks and used half of it to go to West Africa, a trip he recounts in his one-man show The Fula from America. At one point during the tour, he waits three days for a flatbed truck to take him to Freetown, Sierra Leone. At the end of the first day, he starts raving (in English, of course) about customer service. When a child tries to mollify him with a bottle of Coke and a pack of Marlboros, Brown feels ashamed, like an Ugly African-American. So he sits down, lights a cigarette, and has a Coke.

For starters, Fula is great travel writing: funny, pictorial, and reflective. Brown captures his feelings of helplessness and bewilderment in situations both typical and dodgy–language-barrier frustrations and I'm-in-the-middle-of-a-civil-war-and-I'm-going-to-die panics. Brown's play, directed by Louise Smith, is also a wonderful exploration both of identity and African and American culture. Brown cries with a Wolof family after explaining that he'll never know where his ancestors came from; he marvels at his easy decipherment of Krio, a creolized English, recognizing the syntax from the Gullah dialect he'd heard in South Carolina. Captivating and honest, Fula smoothly unites Carl Jung, Marcus Garvey, and the Manhattans' R&B hit "Shining Star," which appears on a Ford van's tape deck like an epiphany. With a little justice, the line at the Center for Independent Artists theater will grow to more than 20 minutes long. Be patient.

The Fula From America

by Virginia Prescott, "Word of Mouth" on New Hampshire Public News, February 20, 2013

In 1981, playwright, performer and theater company director Carlyle Brown decided on a whim to take a trip to Africa. That launched a journey of self-discovery and an adventure that became the basis for a one-man show called "The Fula from America: An African Journey," which Brown performs tonight at The Music Hall in Portsmouth. It's a fund-raising event for Portsmouth's African Burying Ground, and will be followed by a candelight procession to the site where the design for a memorial will be unveiled.